I'm always trying to do my best to stay available for really neat projects that may arise. Amanda September is a singer songwriter that I've not only worked with in the past, but we actually know each other because we went to high school together! I remember we used to take the School Bus back home in the afternoon when we lived like 2 apt buildings from each other! After high school and through college, I lost track of most of my friends. If it wasn't for the likes of Facebook, I'm sure reconnecting would be pretty impossible. Needless to say, this little beau began developing her artistic, creative game and is now on a fast track to establishing herself as a musical influencer.

Shoot was scheduled to take place on a Sunday in the Arts District of DTLA. At the Papillon Eastern Imports Building. Its a huge really industrial looking warehouse that gets rented out periodically for all kinds of creative shoots. It really lends itself as a versatile space for just about anything you'd want to do. The only downside is the lack of Air Conditioning. It was hot as balls while we shot! It took a team of amazing hair and makeup girls to keep Amanda's looks from getting sweated off!
Powered by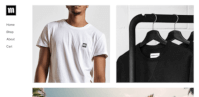 Create your own unique website with customizable templates.