I met Brittany while she was working with me at Kitson. She was the social media manager for the company. I'd occasionally see her when the web team would pull merch from our store to sell online. It wasn't long before they eventually moved the web department upstairs to our melrose location, my store. I would see her all the time. She was always so nice and pleasant. Her and this other chick Lisa Cruz, were the dynamic fun duo! I loved escaping some of my opening duties just to go upstairs to their office to chat and gossip. :)

Brittany recently made the move from Kitson to Forever 21, where she works as part of the corporate team updating sales information online. She hit me up because she is contemplating pursuing a side hustle with modeling. With the help of Daniel Lee, manning everything from wardrobe detailing to reflector holding to motivational speaking ( :p ), and Monica Guzman handling the makeup and hair stations, and yours truly on the camera, we were able to get some really cool startup portfolio shots. Take a look at what we got.
Powered by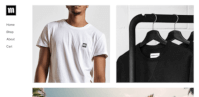 Create your own unique website with customizable templates.